In general, the Blurams Guard will be activated within 5 minutes after subscription. If not, please try to following steps:
Check whether the service is associated with the device:
Go to [Me] -> [Manage Plans], if the service plan isn't associated with the device you want, please choose that device and associate it to the Blurams Guard.
Check whether the cloud recording option is turned on:
Go to the device [Preferences] "

" -> [Storage], turn on [Record video to cloud]. If it's turned off, your videos won't be saved to the cloud.
Check the video timeline data source:
On the video broadcast timeline, it is possible to see the data of both videos from the cloud or from the SD card. Change the video upload method to "cloud" by doing one of the following:
Go to [Preferences/Settings] "

"-> [Storage] and make sure that [Video viewing ways] is cloud.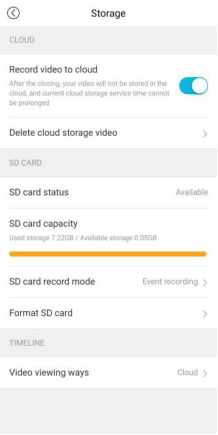 You can also switch the video viewing method on the live page by clicking the "

" button.
If this issue still persists, please email support@blurams.com with the MAC address of the device and a screenshot of your Paypal payment.